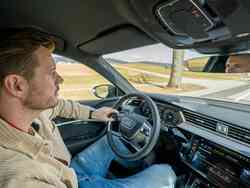 FLEXIBLE MOBILITY PACKAGE - autoabo
Upper Austrian entrepreneur Mario Hofer is switching to electric mobility. He has ordered a new Audi e-tron. He is bridging the months until delivery with autoabo, the flexible mobility offer from Porsche Bank.
The timing could not have been better: On the very day that the charging station for his entry into e-mobility was installed in Mario Hofer's house, Porsche Bank put an Audi e-tron on his doorstep. A car on subscription that the Upper Austrian will use to cover his temporary mobility needs. "I am currently in the process of converting my company to e-mobility. I was looking for an alternative until my new car arrived," says Hofer, who successfully sells cleaning agents with his company Purolex. With autoabo, he found what he was looking for: "It was important to me that it was simple and flexible."
MOBILITY NEEDS ARE CHANGING

autoabo is a flexible mobility flat rate at a fixed monthly price: Depending on your needs, you can choose between a three, six or twelve month term
within the four vehicle categories E-CAR, COMPACT, FAMILY and SPECIAL. If requirements change, it is possible to switch between the categories. autoabo also offers seasonal deals such as the VW T-Roc, the Audi TT Roadster or the Porsche 911 Cabrio for the summer. This provides a unique opportunity to test drive models for a certain period of time. Once the contract has been concluded, the vehicle can be picked up and returned at all specified autoabo stations throughout Austria.
Mario Hofer has chosen the E-CAR category. A few days later, his dream car is waiting at the door. For the Upper Austrian, the switch to electromobility is a logical step: "Eight years ago, I already had the vision of producing a biodegradable cleaning agent," says Hofer. He wants to be as consistently sustainable with his mobility as he is with his product. Until he gets his own e-vehicle, he has found the ideal option in Porsche Bank's autoabo.
For private and corporate customers
Complete package without start-up fee: all services at a fixed monthly price
Flexible subscription period with 3, 6 or 12 months
Up to 4,000 free kilometers per month selectable
Monthly vehicle change possible without additional costs
New and young cars guaranteed
Wide range of models from the Volkswagen Group
Freeway vignette, registration and liability insurance included